"Dental implants mean new, natural looking teeth."
---
Dental implants are an increasingly popular means for replacing missing teeth because they look, feel and function like your natural teeth.
If Santa Monica implant dentist Dr. Ana Brightleaf determines that you're a candidate for dental implants, we will work with our lab to create your custom-made dental implants and ensure they are properly placed for a seamless smile.
---
What is a dental implant?
There are two primary components to a dental implant:
The titanium post acts as a replacement root for the dental crown. The crown is made of durable porcelain that is attached to the implant post after your jawbone tissue has successfully grown around the titanium implant.
---
Long-lasting, reliable, beautiful
Dentures are an alternative to no teeth. Dental implants are a durable, attractive replacement for missing teeth. With dental implants you'll not only get stable, comfortable, attractive teeth, your face and jawbone will receive the support they need to keep you from looking old before your time. If taken care of properly, dental implants can last a lifetime.
The dental implants process generally requires two procedures approximately three to six months apart. First, your titanium implant will be placed in an outpatient surgical procedure.
After the implant post is inserted, your jawbone will grow around the implant in a process known as osseo-integration. This process can take several months, but it is extremely important in order to anchor your dental implant in place.
When your jawbone has sufficiently healed and fused around the implant post, you will return for the placement of your custom-made porcelain crown.
---
Are dental implants for you?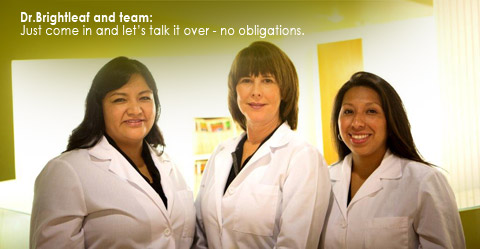 Although dental implants are a beautiful and long-lasting solution for many patients, they are not the best choice for every patient with missing teeth. Your consultation with Dr. Brightleaf will determine if dental implants are right for you.
If you would like to learn more about dental implants and other tooth replacement options, please come in for a complimentary consultation.